Pixel Perfect Html Dashboard For Seamless Project Management
Pixel Perfect HTML dashboard takes off all your hustle of managing the projects online. We have discussed with our partners and developers and come up with the best solution that makes the project management super fast, easy and efficient. No need email the project manager to get the update or put an update request. All you need to do is just place an order and track the progress from the single screen. You can do everything from your dashboard. Check the current status of the project, connects with your immediate project manager, transfer project-related files, get an invoice, and leave feedback; everything you can do at one place.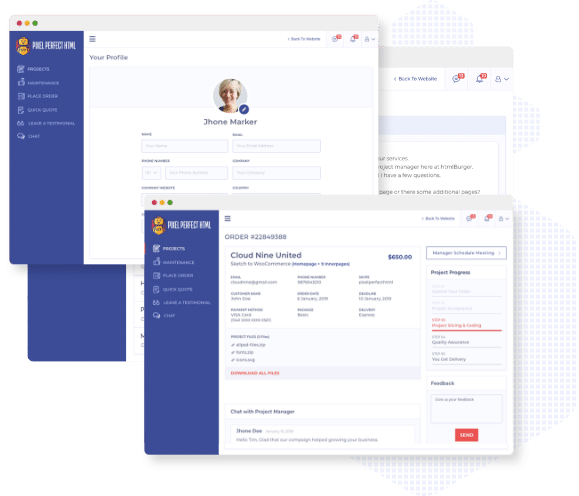 Dashboard Key Feature
Unique customer profile

You will get an email with the credentials to log in to your Pixel Perfect HTML dashboard as soon as you place an order, You can manage all projects from there only. You can also customize your unique profile where you will be able to edit/update your name, password, profile picture, company details and all other general information. It also gives you quick access of the orders you have made so far with Pixel Perfect HTML.

All project listing

Once you sign in on your dashboard, you can see and manage a list of your all projects. You also search a specific project while by its name or order id in the search box. If you are looking for the competed project or current projects it's just one click away. You can filter the project by the status from the top of the project list and will be able to access the project details from there. Getting a quote for your next project is also possible now right from your dashboard only.

Project status update

You can always get the quick project status update from the project screen. You can track your project easily by five different milestones. Project Approved, Front-end development, CMS integration, Functional development, Quality assurance and Completed are the different stages of your project get a quick update. The system will automatically notify via email and update the status when the project will be moved to the next phase of the development cycle.

Dedicated project manager

Pixel Perfect HTML offers you a dedicated project manager with every order you place. Our intelligent system keeps track of your development preferences and dedicated project manager assures that you get the excellent conversion of your design. Starting from requirement gathering to project delivery and post-development support, the project manager will take care of everything about your project from our end.

Everything about the project at one place

You will enjoy modern features of the dashboard under one roof like interface and collaboration. The dashboard allows you to track your projects with details, provide easy connection with your dedicated project manager, file transfer, support and an opportunity to place new order etc. It helps you to monitored projects at a glance and displays a real-time update of project activities. The project message board is an easy option to communicate the requirements and project updates with the team.

Easy file transfer

Downloading .PHP files are easier than ever now. What you need to do is just click on the file download link on the project message board. You will get the unique code download link at the end of each project from where you will be able to access the code of the whole project. The dashboard keeps a record of all file transections and keep the file safe at on our server for a specific time. What you need to do is just click on the link and in the message board and you will get your files ready.

Instant feedback

We always seek your feedback to offer you the personalized conversion experience. You can give your instant feedback about the project execution or final output right from your Dashboard. Just log into your account, give feedback and our team will explicitly take note of that. Instant feedback is a web-based system which helps us to track down further improvement needs. We take a note of your expectations with every comment you made and continuously try to improve the conversion experience with the every feedback you give.
Awesome upcoming features
Invite co-worker

Project development becomes easy when you get your team involved in the process. Pixel Perfect HTML dashboard lets you invite your co-worker to check and participate in the project.

Project support & maintenance

We offer continuous support and maintenance practices to our partners. Choose the best support & maintenance package that suits your needs and leave the rest of the things on us.

Schedule a call

Want to discuss a project with the manager personally? Pick time and date from your dashboard to schedule a call with your project manager. Your development team is just a click away now. Call schedule makes easy to communicate in the availability of time.

Instant notification update

No need to get into the specific project to get the notification or update. You will get all the notifications summed upright on the top of your dashboard main screen. Just check the notification bar and get what's new in which project.