12 Best WooCommerce Security Tips to Secure Your Site From Hackers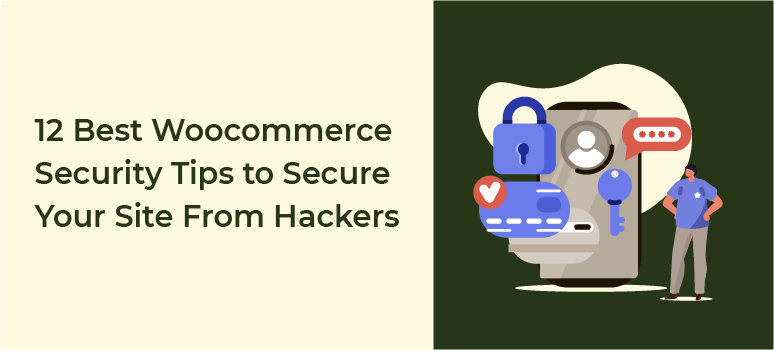 Network security is a major point of concern for every e-commerce website. Whether it's a major e-commerce platform or a small enterprise, data, and network security always top the list of prioritised tasks. With the advancement of security technologies, hackers are constantly finding new ways to breach the security of websites. WooCommerce is one of the major e-commerce website handling platforms and serves over 3 million enterprises. The primary reason for these websites' trust in this platform is WooCommerce security . As an e-commerce platform, you must take extra precautions to prevent brute-force attacks on your website.
Is WooCommerce secure?
WooCommerce security is strong enough to handle security breaches on your website. But hackers constantly try new ways to break the security of the website by gathering customer and payment-related data. It does not matter whether you are handling a small e-commerce website or a major enterprise, attackers will surely try to steal the data.
Security issues can arise when you or your inept developers:
Use ineffective deployment techniques.
Handle security issues incorrectly.
perform infrequent site maintenance.
Don't upgrade the site to the latest version.
Choose a reputable host.
WooCommerce security is not responsible for handling the customer and website data. The files and information of your customers reside with the host of your website, and if not handled properly, it can be the weak point of your network security. You must choose a host wisely to protect your customer's data and avoid major future problems. In an ideal world, you'd choose a host that is well-versed in WordPress and clearly states the steps they take to ensure your safety and security. You must look for a host that provides you with basic features like SSL certificates, attack monitoring and prevention, a server firewall, and 24×7 support.
To Prevent Brute Force Attacks
Brute force attacks are the most common type of security breach on e-commerce websites. Hackers perform brute force attacks by developing a bot that tries different combinations of usernames and passwords on your website. The chances of brute force attacks increase if you don't have a strong password mechanism on your system. Brute force attacks also increase the load time of a website as they generate traffic on e-commerce platforms.
Check and adjust your FTP settings.
The File transfer protocol (FTP) acts as a bridge between the communicating device and the system server. They are responsible for transferring the requested files from a web server to the computer. Access to these FTP accounts can cause major security issues because hackers would make major alterations to your website. You can prevent these alterations by setting the FTP permissions on your site. To make sure that your FTP can only access the root directory, wp-admin, wp-includes, and wp-content, you need to make sure that it can only access the root directory.
Keep everything updated.
WooCommerce security features cannot help you until you keep them updated to the latest version. Outdated security features can be a vulnerable point for hackers as they constantly develop solutions to existing security features. It is not compulsory to keep your site configuration up to the latest version. But the security patches must be updated frequently to protect your website from major security issues like active attacks and passive attacks. The developers of WooCommerce give website managers a lot of plugins and security updates so they can keep their sites safe from all kinds of threats.
Use security plugins.
WooCommerce security patches come with security plugins to protect your website from vulnerable threats from hackers. WordPress also comes with major plugins to support your website's security and data protection mechanisms. You must be very careful in choosing the security plugins for your website, as using many plugins together may produce severe consequences. It's best to use only one security plugin at a time to cut down on the website's load time and complexity.
Use strong passwords
If you use easy passwords for your websites, like hello world, admin, or the name of your company, then you are always under the threat of brute force attacks. You must use stronger passwords to protect your website from major security breaches. WordPress's "better passwords" plugin can help you decide on a secure password for your website credentials.
Get an SSL Certificate
A secure socket layer (SSL) certificate ensures that communication between server and device is being performed in an encrypted form. The SSL certificate is vital for e-commerce websites as they deal with sensitive details like bank account details. Acquiring an SSL certificate will show a small lock in front of your URL in the browser that will ensure users that the website is secure to deal with.
Implement Geoblocking
You would be aware of the geographic logs of your website and the frequency of visits from particular countries. Many times, bots targeting you originate from the same countries, and if you notice a spike in the website from certain countries, you can block the traffic from that country to protect the server from the overflow of request handling. WooCommerce security has a feature that lets you block traffic from certain countries to keep your site safe.
Hosting Configurations
WordPress does not allow you to directly alter or read its files. You'll need an FTP client like File Manager to do this. You can choose from several FTP clients in the plugin library of WordPress to protect your website from threats. The first step you should take is to protect your wp-config.php file, as it consists of vital information related to your website.
Use 2FA
Two-factor authentication (2FA) is the most common and widely used security mechanism. It provides an extra layer of security against brute force attacks. If the bot were able to reveal your password, it would not be able to access your website due to the 2FA. The most common type of 2FA is the one-time password (OTP) that comes to your device during the log-in process.
Make backups regularly.
Backing up your website entails copying all of its data. So if something goes wrong, you can easily get it back. No matter what happens to your WooCommerce stores, having a backup will provide you with peace of mind in the worst situations as well.
Scan sites for malware and vulnerabilities.
If you know what condition your site is in right now, you can keep it safe. To uncover flaws and vulnerabilities, you must scan your WooCommerce site. If you realize something is going wrong ahead of time, you can repair it without incurring major damage.
Conclusion
Personally identifiable information (PII), often known as customer-specific data, is handled by your e-commerce website. If your data is leaked, you might face legal fines, litigation, and expensive expenditures to recover from the data breach. The risks are just too high for any security flaws. As a result, preventive and preventative steps are critical for WooCommerce security .
SUBSCRIBE TO OUR NEWSLETTER