WordPress Vs Other CMS: Which One is Better in 2022?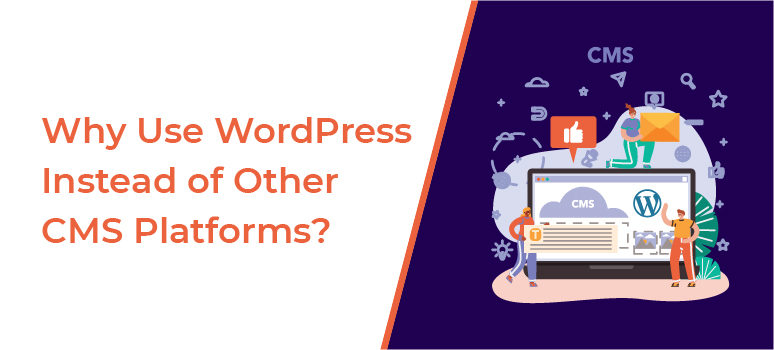 Introduction
It has never been easier to create a website or blog, thanks to content management system (CMS) software. Most have the same goal: to give anyone the tools they need to create a professional-looking website in hours. You don't need to write code to make pages or posts with a CMS, and you don't need to know CSS or HTML to change the entire look and functionality of the website because of themes and plugins. The website you like to build, for example, a portfolio, blog, or online store, will influence which CMS you choose. WordPress is among the most popular option, but it is not the only CMS available. You can follow this link to download WordPress. In this article, we will learn everything about which one is better to choose in WordPress vs other CMS platforms.
What Is WordPress Used For?
WordPress was designed to be a blogging platform, but it is now used for a wide range of projects. When it comes to answering the question, "What should I do with WordPress?" or "Is WordPress Just for Blogs?" here are a few examples.
Portfolio websites- Are you searching for a position? Do you want to attract customers? Display your photographs? A portfolio website is among the best ways to achieve these objectives, and also the WordPress features make it simple to create one.
Business websites- Customizability is among the most noticeable WordPress advantages. Because of the high number of available plugins, you can establish a business website with your unique brand look and with almost any functionality.
eCommerce websites- You may believe that creating an online store necessitates using a specialized platform such as Shopify. However, WordPress is an amazing tool that comes in handy when someone wants to make eCommerce websites. You have to link it with the WooCommerce plugin, which includes all of the features necessary to ensure effective Internet sales.
MVP websites- Testing a business concept rapidly before launching a full-fledged venture can save you a lot of money in the long run. WordPress accelerates web development.
WordPress Vs Other CMS
WordPress is the market leader in the CMS industry, we compared it to the competition to illustrate the difference between software and what it is best suited for. We compared the top three, WordPress, Joomla!, and Drupal, as well as popular alternatives Squarespace and Wix.
The very first step in creating a website is selecting a CMS. You should start by looking for platforms that are adaptable enough just to meet your needs in the future while also providing a good return on investment. Most importantly, choose a system that corresponds to your skillset.
Our evaluation includes the following deciding factors:
Hosting- How a website is hosted is an important aspect of its success.
Cost- When selecting a platform, consider the cost of creating and maintaining a website. The final costs are determined by your requirements, ensure that your selected platform allows you to get whatever you need while staying within your budget.
Difficulty- Beginners would like a platform that allows them to easily create websites without having to spend a lot of time learning a new skill, especially coding.
Design and layout- The presence of your site is crucial to project success; your label should stand out through attractive design as well as a user-friendly interface.
Advantages of WordPress – Best CMS Platform
WordPress is the most user-friendly platform for learning how to build a website if you are a beginner. The following are the top reasons why WordPress is superior to other CMS:
Easy to Use
The WordPress system is easy to use and fast to install. The installation process takes less than 5 minutes, and also no previous technical or coding analysis is needed for installation or use. WordPress is a powerful CMS with an easy-to-use web interface. Every single task becomes simple with WordPress, like – easy to use, simple to comprehend, simple to set up, updatable, and easy to manage.
Flexibility with Designs
WordPress allows you to be creative with your designs. Instead of using a single coherent design throughout your website, you can use various design layouts. The WordPress platform includes thousands of plugins and themes from which one can choose the best for their company. The majority of WordPress themes are mobile-responsive, allowing readers to see your website on any mobile device with ease.
Advanced Security
Security is always a top priority for WordPress. WordPress's security features are among the leaders in the market. Even though it is an open-source platform, hackers find it difficult to breach. If you use the WordPress platform, you can be confident that the website you are constructing will be safe and secure from unauthorized access and other cybercrime-related activities.
Customization and Plugins
You can customize any aspect of the website when WordPress is installed on your server. It enables the use of a large number of plugins for the site, which means you can improve the features of your site while still making it look nice, all without having to know even the fundamentals of coding. When compared to certain other content monitoring systems, the plugin ecosystem is massive.
As per the official plugin listings, WordPress itself has approximately 52,000 plugins, while its top competitors, Joomla and Drupal, have nearly 8,000 and 39,000 plugins, respectively. All of these plugins allow you to work with your website's SEO, Marketing, and other associated details, affiliate marketing, photo galleries, and many other features.
SEO-friendly
SEO is essential for driving traffic to your WordPress site, and WordPress has been well for SEO. It's simple to create SEO-friendly URLs and categorize and tag your posts with SEO in mind. There are several SEO plugins available in the site's library. All you have to do is customize the basic settings to your needs, and the plugins will take care of the rest.
Pricing
Some CMS options are completely free, while others require a monthly fee. Even with free CMS software, you must pay for third-party apps, plugins, designs, and extensions. When starting a new business, you would like to keep your expenses as low as possible. A free CMS can save you a significant amount of money, in addition to investing in another future professional career such as design and client service.
Conclusion
The WordPress platform has been the most prominent because it is the most user-friendly for non-developers to create a professional-looking website. It's easier to learn than most CMS; with little effort, anyone can create a powerful website that's also simple to manage.
It's the most versatile platform, as it is the only one that can construct any website, including e-commerce.
SUBSCRIBE TO OUR NEWSLETTER