All About Best Magento 2 Page Builder Extensions (Free & Paid)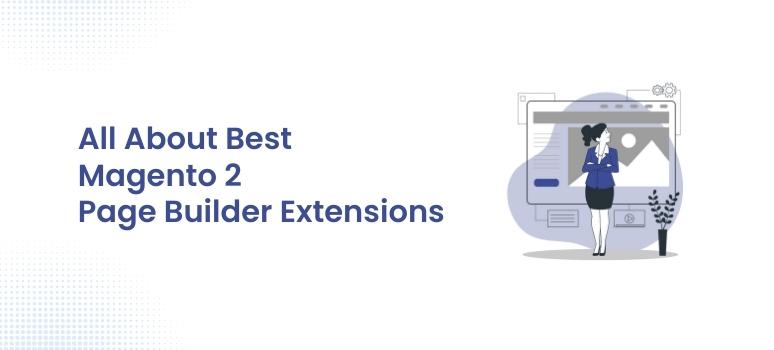 You don't need to know how to code or hire designers to develop a stunning homepage for your Best Magento 2-page builder website. What's the point of learning to become a page builder from the ground up and struggling with complex commands once you can find all-in-one tools to make things easier?
In this article, you'll get to know about a thorough list of the top Magento 2 Page Builder extensions. The list includes information, advantages, and disadvantages for each module, making it easier to choose the best option.
Magento 2.3 Page Builder: What is it?
Page Builder was released in November 2018 for Magento 2.3. This functionality is only available for Magento Commerce, not Magento OpenSource. It's a powerful editor for dragging and dropping pre-built controls to create content.
To edit your website pages' layout, design, and color, you no longer need any technological or coding knowledge. You can now customize images, text, layout, and placement of all elements on your page using Magento 2 Page Builder by dragging pre-built rows, columns, blocks, buttons, sliders, and other elements and editing them to your liking. This feature helps simplify the process of creating web pages and enables the firm to store new and exciting capabilities.
Here's What You Need to know about the Best Magento 2 Page Builder Extensions
Consider the following scenario: your Magento 2 website requires a landing page. You don't know how to code, so you need it built quickly and as easily as drag & drop some builder elements. You then ask yourself, "What is the Best Magento 2-page builder extension?" 
Other key features for this page builder on your "must-have" list:
To implement a drag-and-drop interface.
To be made as fast as possible.
To include a wealth of customization options.
To aid responsive design and a mobile-friendly layout.
To make it simple for you to modify the layout and add new blocks.
To be compatible with Magento's WYSIWYG editor.
To provide a large number of widgets for you.
 To work with the other Magento themes and extensions.


Top 5 Magento 2 Page Builder Extensions
Magento 2 Landing Pages by Amasty: (Premium)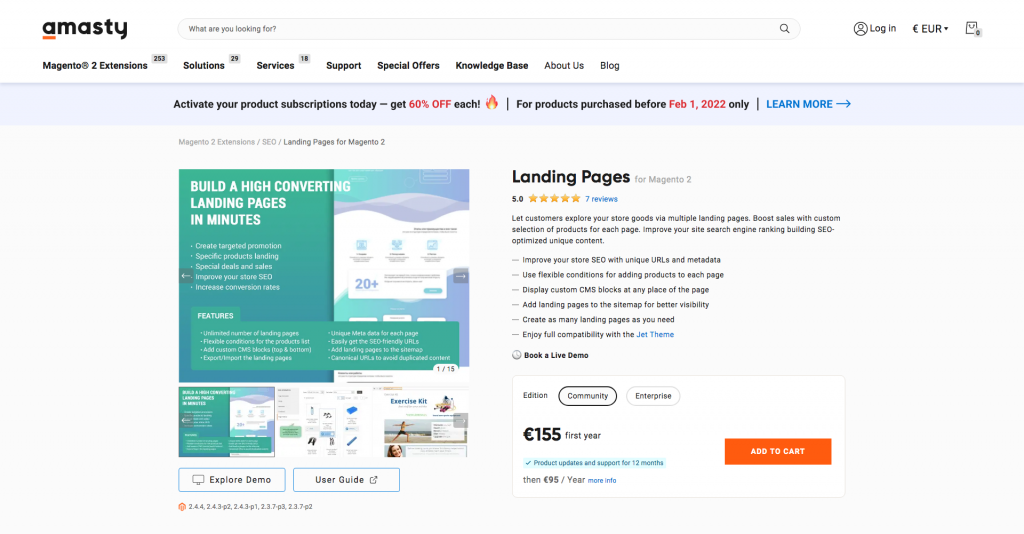 The module will help you improve your customer experience by providing you with multiple optimized landing pages.
It also assists you in developing a website with user-friendly URLs and various features, both of which are effective weapons for increasing your website's online presence on search engine results pages. As a result, organic traffic increases, and sales increase.
You can also generate your layouts based on various criteria like category, price, SKU, and so on. This extension is a fantastic way to improve your promotional campaigns.
Key features
Improve the SEO of your store by using friendly, distinctive URLs and metadata.
Makes as many landing pages as you want.
The product list uses flexible conditions.
CSV file import/export landing pages.
Establish your own CMS blocks.
Incorporate landing pages into the sitemap.
Canonical URLs help you avoid duplicate content.
Multi-store support.
Code is freely available.
Pros
SEO-friendly and simple.
The website is SEO-friendly.
Customization is possible.
Free updates for life.
SEO-friendly URLs improve the store's performance significantly.
Cons
There is no free trial available.
Pricing
$149 for the community.
$449 for Enterprise.
Magento 2 Front-end CMS Page Builder by Magesolution: (Free)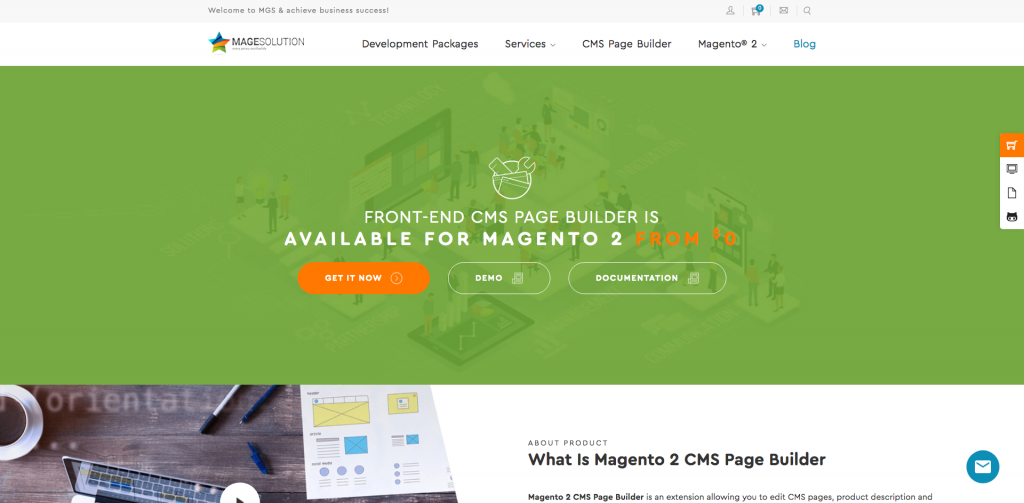 With this extension, you can visually modify CMS pages, product descriptions, and category descriptions. Instantly see what you've done, whether it's a minor tweak on the user interface.
Magento 2.1.x, Magento 2.2.x, and Magento 2.3.x are all fully compatible.
Key features
Supports 12 Block Elements.
Every Magento 2 theme is compatible.
Builder elements.
Visual & friendly.
Pros
Cacheable speed.
Export-Import – Restore.
Magento 2 CleverBuilder by CleverAddon: (Premium)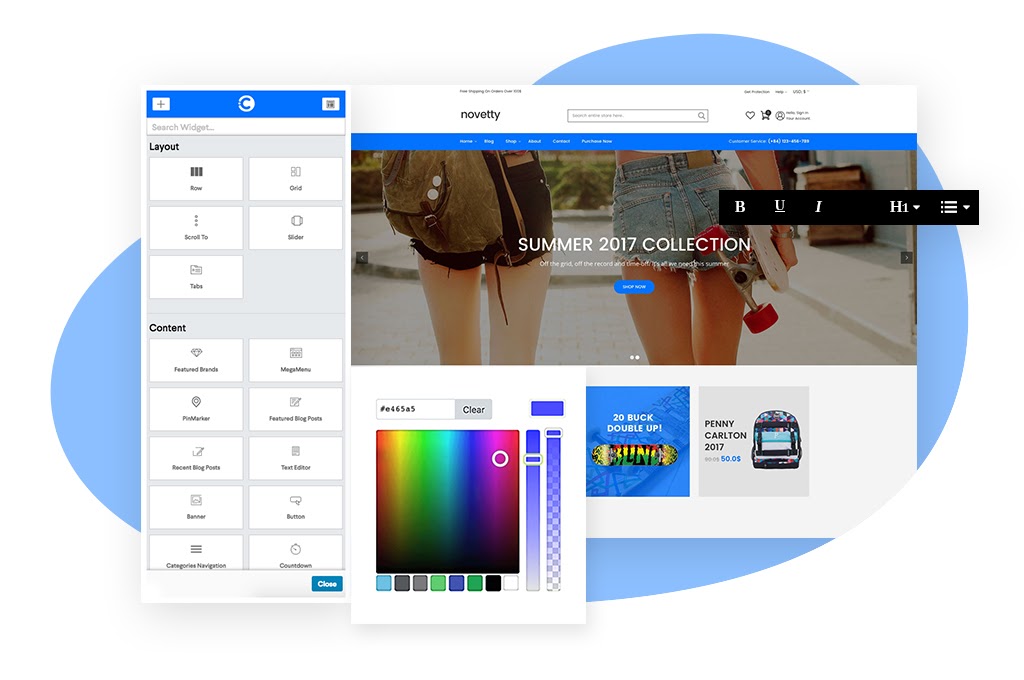 CleverBuilder is among the Best Magento 2-page builder. Visual live frontend editors, in-line editors, and tree views make creating web pages much easier. This module gives you responsive, mobile-ready, and beautifully designed elements to start building responsive web pages. 
You can use these potent and responsive options to create an instinctive website that is neat and attractive and simple to navigate to increase traffic, leads, and conversions.
Key features
Create and manage your entire web design workflow in one place.
Innovative drag-and-drop visual design interface.
30+ design elements and layouts for a seamless end-to-end experience.
Right in the editor, you can see how your website will look.
Work through any theme and CM page with ease.
Pros
Usefulness.
No prior coding experience is required.
Complete creative freedom.
Designers, developers, marketers, and entrepreneurs can all benefit from it.
Blog capabilities.
Cons
There will be no pixel-perfect design here. You'll need to use custom CSS to remove some unwanted whitespace. That is a minor flaw.
Pricing
$199/year for a single Magento 2 Community website. 
$399/year for three Magento 2 Community websites.
Enterprise version of Magento 2: $599.
Bluefoot CMS & Page Builder for Magento 2 (Free)
This drag-and-drop page builder makes creating feature-rich pages simple and quick. Whenever you see the Magento WYSIWYG, you can use BlueFoot. A good Magento 2-page editor option.
Key features
Customizable pages in minutes.
Page builder with drag and drop functionality.
Service for ready-to-use installation.
Pros
WYSIWYG integration for Magento.
Magento Enterprise Edition 2.1 and higher integration.
For merchants, Bluefoot CMS (v1.0).
Landofcoder Page Builder Extension Magento 2 (Free)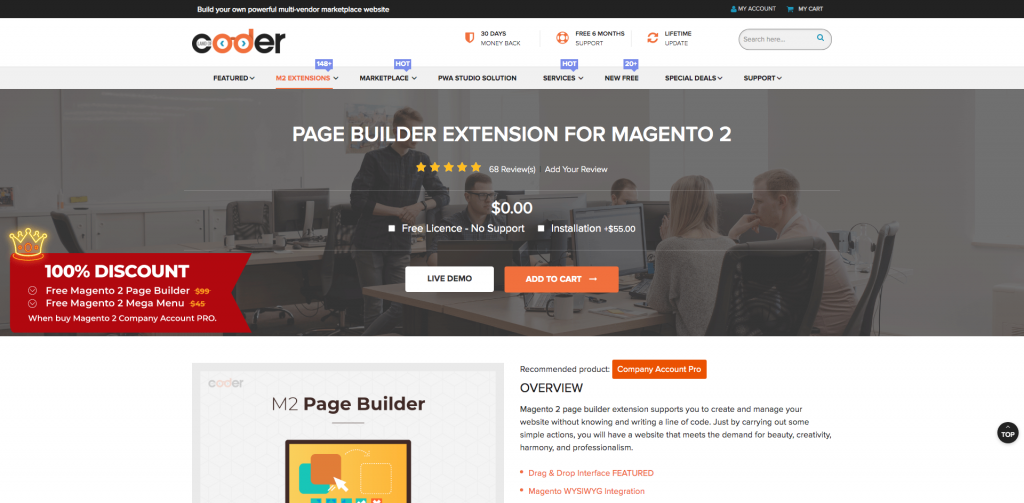 The Landofcoder Magento 2 page builder allows you to create and manage your website without having to know or write any code. You can create while automatically updating changes. Let's look at the features below to see how they work.
Key features
Interface with Drag and Drop.
You can use any Magento template.
Supported Widgets: 50+
Convert pages and aspects into Content CMS pages and blocks.
Layouts are limitless.
Bootstrap Grid View System & Block Builder.
Pros
Extensions from third parties are simple to add.
CSS Skin Builder and CMS Page Builder.
Schedule the frontend display of your page.
For Easier Editing, Use Live Preview.
Pricing
$99
Page Builder by Dragdropr (Premium)
DragDropr helps build a web page with no prior experience or programming knowledge. It is also among the Best Magento 2-page builder.
On every page in the webshop, it works wonderfully on top of the native Magento WYSIWYG Editor. The browser extension aims to start editing or designing a professional web page by simply clicking a button.
Key features
WYSIWYG.
Drag-and-drop editor.
Live preview.
Blocks of Content.
Embed HTML.
Pros
Buttons for products.
Sliders that respond.
Any screen size can be accommodated.
Controlling responsiveness.
Pricing
$19 and up
Conclusion
You should be looking for the most suitable Magento 2-page builder extension for your specific needs, not the best. So, which features are the most important to you?
Would you give up the ease of use in exchange for lightning-fast performance? Are customization and flexibility more critical than easiness and an intuitive user interface?
Related Articles
Magento

|

April 15, 2022
SUBSCRIBE TO OUR NEWSLETTER