7 Best Magento Security Scanner to Secure Your Storefront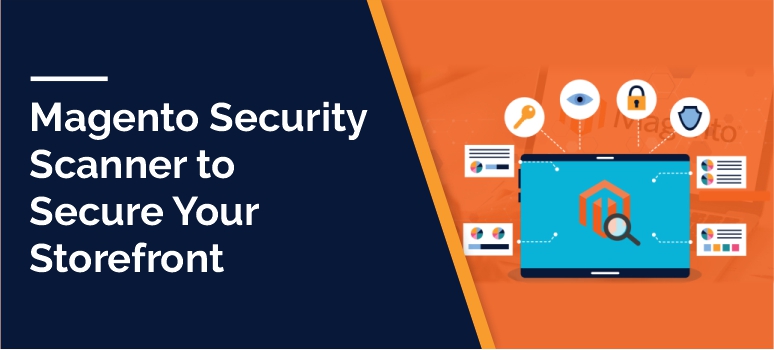 All websites, from e-commerce to simple blogs, face the threat of being hacked. Due to the large amount of user data that is stored on eCommerce platforms, security has become a major concern. Malware and denial-of-service attacks can also bring down the website. In order to protect your site from malware, viruses, and unauthorized access, Magento Security can perform 30 different types of tests on your site. It also verifies that Magento patches have been installed and security practices have been followed.

Either manually or at regular intervals, an audit of Magento's security can be performed. The correct type of Magento security scanner must also be selected according to your requirements. Following, we'll take a look at seven of the best Magento security scanners on the market today.
Most Noteworthy Security Features in Magento 2
Magento 2 has an inbuilt security climate that can secure your eCommerce platform. It provides many robust features that are necessary for your website's complete protection. Some of the most noteworthy security features are as follows:
Better Password Management Tools
Passwords have become a key mode of security for e-commerce websites. It protects against the unauthorized access of an intruder. The backend system for storing these passwords and verifying the users at the time of login is also a vital task. Password management systems can be breached, resulting in major security issues. The password management system by Magento 2 provides an extra level of security in password management. It uses SHA-256 algorithms to look up the arbitrary data using a fixed value (password).
Adaptable File Permission
The limited access to users of backend systems is a major point of concern for all eCommerce systems. If any malicious user enters the backend files, it can damage the whole database. Magento 2 provides an automatically assigned file system permission to users. It also allows organizations to change the permissions allocated to a particular user. You can protect your online store with Magento 2. It's a good mix of security and convenience that can help you.
Regular Updates
Magento is currently shifting from Magento 2 and closing Magento 1 instances slowly. Magento 2 is getting constant updates that help users protect their websites against any possible threats. In one batch of updates, Magento 2 released a solution to remote code execution and information leaks due to vulnerabilities in cross-site scripting. To get constant updates to unravel the previous known issues and protect the users against advanced possible attacks,
Cookie Validation
A cookie is a primary requirement for switching between pages in an HTTP protocol. Magento 2 provides two levels of security, i.e., from the browser to the application using encrypted HTTP and from the browser to the application using the HTTPOnly and SameSite attributes. The HTTPOnly attribute restricts cookies from being accessed by JavaScript, while the SameSite attribute allows cookies to be sent only if the request is from the same domain.
Best Magento Security Scanner
The top 7 Magento Security Scanners are listed below.
It is one of the most popular Magento Security Scanners to protect Magento websites against vulnerabilities for free. It not only checks the core Magento vulnerabilities but also deals with third-party extensions to check the vulnerabilities. It includes:
Security patches like 9652, 6482, 7405, 6788
Administration's disclosure
Exposure to API
Ransomware
Webforms vulnerability
SUCURI is a Magento security scanner that is not specifically for Magento, but it also works with many other components. It is a free website and malware Magento security scanner that protects against:
Malware
Blacklisting
Injected SPAM
Defacements
Forgenix is a Magento security scanner that performs many external website tests, displays the results on your screen, and also sends them to your email in PDF format. It checks for the following threats:
Outdated version
Credit card theft
Leakage of secrets
Magento shoplift
Administration's disclosure
XSS attack
It is a special type of Magento security scanner. A security patch tester is used to test the Magento website regarding any possible vulnerable risk. It is useful when we want to test security patches. The Magento security patch tester is a quick and easy way to test security patches.
Malware
Blacklisting
Injected SPAM
Defacements
Acunetix is a simple and lightning-fast Magento security scanner that can be used while performing security tests. It provides all the necessary features to track the vulnerabilities and resolve them. Acunetix not only works on Magento but also on other platforms like cross-site scripting and SQL injection.
Outdated version
Hijack of Credit Card
Leakage of secrets
Magento shoplift
Disclosure of admin
XSS attack
Magefan is a free Magento security scanner that protects your eCommerce sites against vulnerabilities. It consists of many scans, such as:
Magdalena brute force
Magento pub
Frontend SSL for Magento
Full-time SSL for Magento
Sansec is one of the premier eCommerce vulnerability detection tools. It has a partnership with Adobe to provide a Magento security scan tool. It protects against:
Outdated security patches
Injections of a digital skimming
Vulnerable extensions
Scheduling of vulnerable scans
Suggestions relating to the failure of any security breach
Advantages of Security Scan Tool Improvements
Adobe has a partnership with Sansec and it will enhance the Magento security scanner functionalities. Users will now be able to enjoy extra benefits such as:
security status report of their Magento store.
Suggestions to fix the known issues
identify malware on websites by conducting more than 17,000 tests.
Access to previous security reports for tracking the progress of security updates
Complete access to scan reports that show a complete list of successful and failed tests.
ECommerce Security Best Practices
For the sake of your website's security, it's not always wise to rely solely on Magento security scanners. In order to protect your e-commerce website from all possible threats, it is recommended to follow a set of guidelines. The following are some examples of good e-commerce practices:
Try to use reputable host providers.
Use only trusted solution integrators.
Run your website on an encrypted HTTPS channel.
Keep security patches up-to-date
Use strong passwords.
Change passwords regularly.
Regularly monitor website threats using tools like the Magento security scanner.

Additional Read
Magento eCommerce Platform- Why Should You Use It for Next Project?
Conclusion
In order to protect your Magento platforms from all possible threats and vulnerabilities, you should use Magento security scanners. Top Magento security scanners include MageReport, Foregenix, MageFan, and the security patch tester. There are times when security scanners aren't the best way to go, but you should still follow some common practices to ensure that you're protected.

Related Articles
Magento

|

January 4, 2017

Magento

|

February 23, 2016
SUBSCRIBE TO OUR NEWSLETTER