10 Top-Rated PSD to WordPress Conversion Service Provider in 2023
Choosing the right PSD to WordPress conversion service provider shall ensure that you get quality service. From professional conversion in a quick time, you can choose from the list below. 
Carefully creating a website from scratch helps grow the customer base better. It also helps to grab the attention of the target group better towards your company website. It helps generate leads better, resulting in higher conversion for the business.
This way, you can make ways for effective brand promotion, and the potential customer gets to know about company products and services better. To expand your business worldwide, you can start it through online mode. Through this, more customers can get access to your service and products. Below is a rundown of 10 service providers for PSD to WordPress conversion that shall help to get a suitable solution.
10 Top-Rated PSD to WordPress Conversion Service Provider
CSS Chopper
Code My Concept
HTML Burger
HTML Panda
XHTMLChop
XHTMLChamps
My PSD to HTML
PSD2HTML
Pixel Perfect HTML
W3 Markup
The service provider is perfect as an offshore web development agency that offers customized PSD to WordPress conversion service to different scales of businesses. From start-up to large scale ones, they can seek help from the service provider. It incorporates the latest technologies and offers a high-end solution at a reasonable price for the companies. Therefore, this can be considered among the trusted PSD to WordPress Services Providers that provide quality service to the clients. To meet your deadlines well, this service provider is the suitable one to approach to get professional help.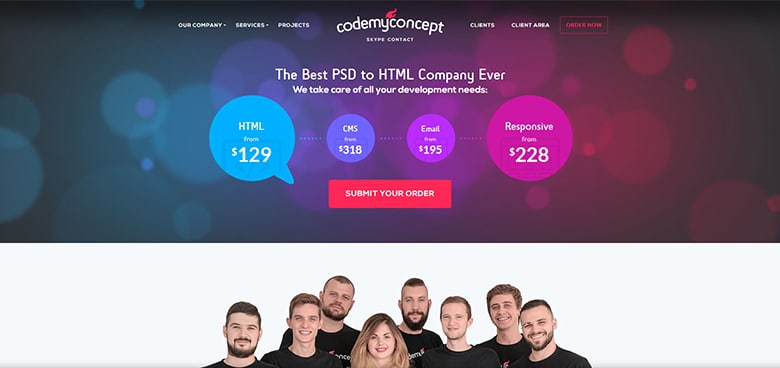 For the conversion of PSD to WordPress, email and HTML service, Code My concept offers professional service. Some additional services include widget additions, page management, blog implementation, customization of the blog, and the like. After service assistance is also helped by the technical team of the service provider once the project is completed. They charge a very nominal price depending on the type of design that the clients ask for. For creating a responsive website design and adding some WordPress implementation, it may charge something extra.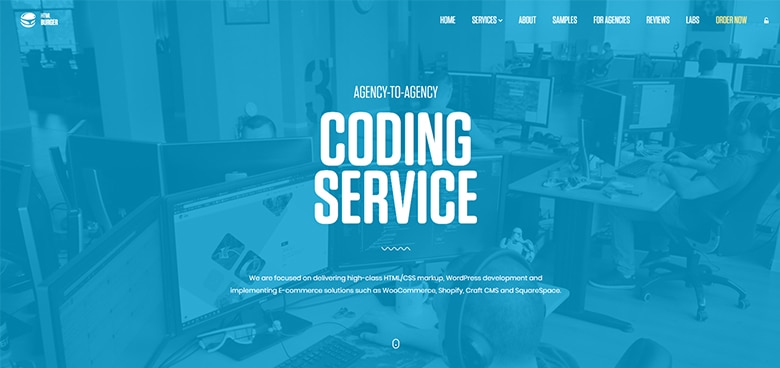 For Front End Development Services, you can get in touch with this service provider. It excels in different file conversion of different formats like PSD, Ai, and Adobe XD into pixel perfect, HTML and the like templates. Even to incorporate high-quality website designs, this service provider is the suitable one. With the help of a functional website, it helps grab the attention of customers and retain it for long. From Plugin development to WordPress development and changing the existing site, it is suitable to approach to get professional service. Even for email template coding, this is the suitable one.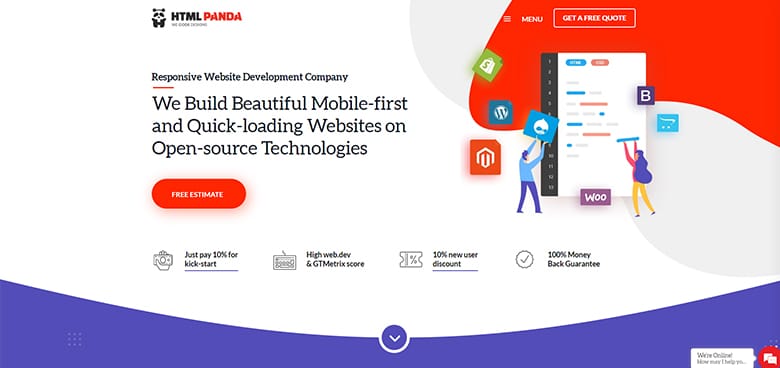 Offering quality web development service for five years, this can be considered among the best ones. By completing over 15000 web projects, it can be trusted to offer professional service at a reasonable rate. It offers WordPress development service along with some others. The services that it offers are responsive, SEO optimized that is fully hand-coded. It contains high coding standards and focuses on website security, and it has an experienced team that helps to offer quality service whenever necessary. The service provider also offers a suitable testing process for the website. Get in touch with the technical team today to know about the estimated cost of the project of website designing.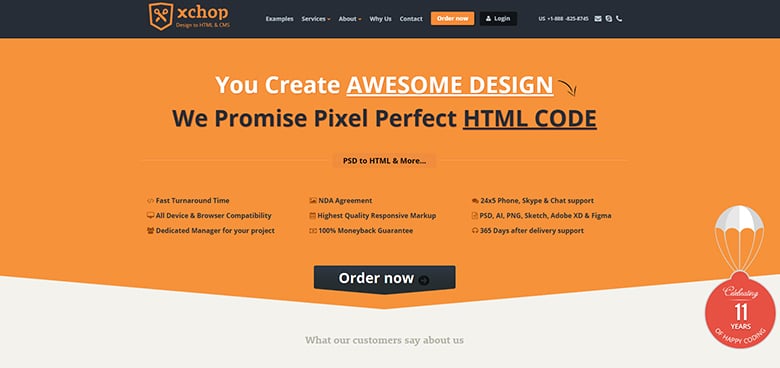 For high-quality conversion service to professional coding and high satisfactory service, this is the suitable one. The project managers are dedicated to offering quality service. With the latest browser compatibility, you can get service as per your budget from the above said service provider. With easy money back policy, you can approach them for top-notch service.
My PSD to HTML
When looking for the best service of PSD to WordPress conversion, this can be the safest bet. It is capable of creating customized services for different development projects of the businesses. Even the service provider is specialized in offering rough designs for functional and user-friendly WordPress setup of the website. This helps cope up with marketing challenging making it easy to sustain a prominent position in this competitive market. The expert team of the service provider offers hand-coded designs and theme that meets the specific demand of the business website.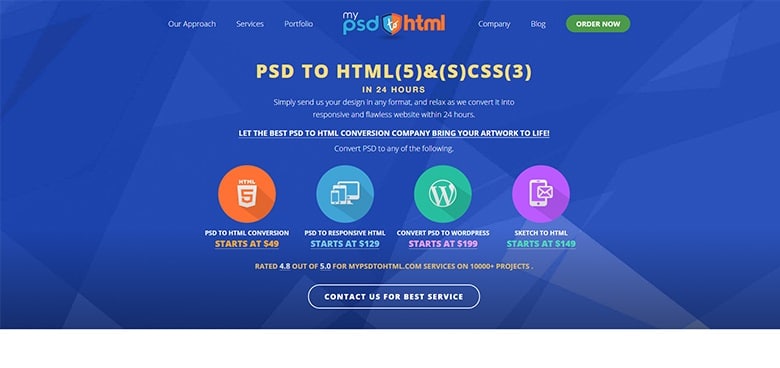 The service provider helps in a suitable WordPress conversion service at a reasonable rate. Offering service to more than 400 clients with professional design service, it is arguably among the best ones for creating a business website. The service providers are among the priority of the clients for plenty of reasons. It is capable of offering suitable service in a quick time without missing deadlines. By following suitable coding standards, following punctuality, and offering reasonable rates, it is a suitable one to seek help.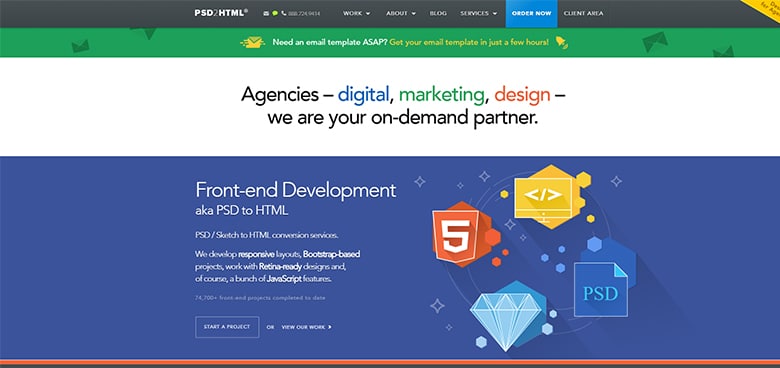 PSD2HTML is another reputed company that helps in suitable PSD to WordPress conversion. It helps in converting file formats such as PDF, PNG, PSD, AI, JPG, and TIFF into HTML format in a quick time. It offers a very nominal cost for the first page and the inner page. Even if you compare the prices, it offers a reasonable one. Also, it offers different gateways like Master Card, Visa, Discover, Amex, and PayPal.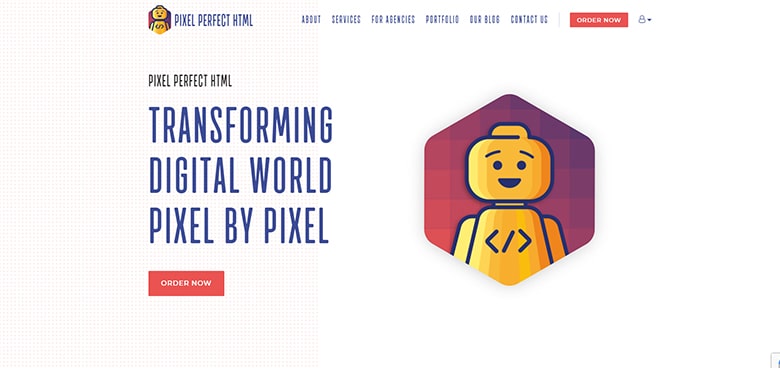 For PSD to WordPress and the like conversion and suitable website designing service, this can be the suitable one. You must be worrying about the prices charged by the service provider. It takes a nominal price and promises to offer first-class service to the customers. They help to give shape to dynamic ideas and help in the suitable creation of company websites making them user-friendly and interactive for the clients.
How much does PSD to WordPress Conversion cost?
| | |
| --- | --- |
| PSD to WordPress Conversion Service Providers | Cost (Starting From) |
| CSS Chopper | $149 |
| Code My Concept | $189 |
| HTML Panda | Get a Free Estimate by getting in touch with them |
| XHTML Chop | $119 |
| XHTML Champ | $99 |
| My PSD to HTML | $199 |
| PSD2HTML | Get a Free Estimate by getting in touch with them |
| Pixel Perfect HTML | $350 |
| W3 Markup | $192 |
This is among the best creative company that is able to offer CMS market customized service and helps in website development. W3 Markup is able to develop high-quality WordPress themes that are suitable for the company. The basic charge of the service is nominal. Even if you have a tight budget, you can get customized service from the expert team. For any addition of service and features that you wish to incorporate into the company website, you will be charged accordingly.

Subscribe to our newsletter