Top 9 Figma to HTML Conversion Company in 2023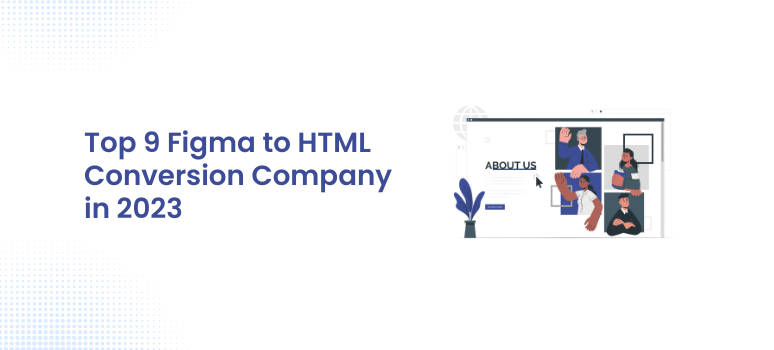 Professional web designers now use Figma as their go-to design software. The next Internet entrepreneur will benefit from having an intuitive and easy-to-use website in this world of commercial opportunities in the digital marketplace. However, not everyone can be an HTML expert, as it takes effort, time to learn the best practices, and robust experience to create a user-friendly and intuitive website that genuinely accomplishes business goals. Consequently, Figma to HTML conversion company plays a key role in this process by offering seamless and practical solutions to convert Figma designs into pixel-perfect, fully functional HTML websites.
In addition to offering exceptional Figma to HTML conversion services, these top 9 companies in 2023 also excel in PSD to HTML conversion, PSD to WordPress conversion, Sketch to HTML conversion, Adobe XD to HTML conversion, and much more.
This blog shares insight on popular Figma to HTML conversion companies in 2023. Read on to find out more. 
Top Figma to HTML conversion companies
The list below includes the top 9 Figma to HTML conversion companies that can help you organize your work by converting designs into stunning web pages.
CSS Chopper
CSSChopper is a widely respected web development services provider with a top-notch staff of talented web specialists. They provide flexible, receptive, standards-compliant, and reliable online solutions. Their global presence is substantial, and they are experts in niche technologies like PHP, AngularJS, NodeJS, eCommerce, and CMS. Through creative solutions, they have accomplished many milestones since their beginning in 2009. Subsequently, their award-winning website creation services, CSSChopper has won recognition from influential professionals across a range of industries. 
HTML Panda
HTMLPanda works together with clients to design goal-driven, educational, and user-friendly websites that effectively engage targeted audience. They have highly skilled professionals on the team who can create websites with increased conversion rates and pixel-perfect design. Further, their websites transform into effective communication channels that promote online expansion and produce measurable outcomes. They utilize leading-edge technology and trends to offer top quality services.
XTMLchop
Xhtmlchop.com is a full-fledged Figma to HTML conversion company that works across Figma conversion spectrum, including but not restricted to Figma to HTML and Figma to XHTML conversions. They can provide you with the highest quality Figma conversion services because of their vast team of highly skilled coders. 
GET LIVELY & RESPONSIVE WEB PAGES WITH OUR FIGMA TO HTML CONVERSION !

Contact us with detailed information about the project and get a quote NOW!!!!.
Fantastech.co
Fantastech.co is a web development company that focuses on projects involving the conversion of design codes. Launched in 2012 they have successfully delivered thousands of revenue generating PHP and WordPress projects by creating bespoke websites, plugins, and web applications.   
With their specialized Figma to HTML service, they will assist you in turning your ideas into pixel-perfect, well-commented, and semantic HTML code. They can help you save significant money and time by completing your design conversion project on-time, thanks to their knowledge, competence, and proven techniques.
Midway through 2018, they decided to change their focus and specialize in Design Code conversion offerings. Today, they assist small and medium businesses and enterprises achieve their goals through pixel-perfect, high-performance, and bug-free HTML pages and WordPress websites.
GetDevDone
GetDevDone offers comprehensive services for every stage of website development, from HTML/CSS markup to complete solutions for different CMS and eCommerce platforms. Launched in 2005, they have provided premium digital solutions to agencies and all-sized companies, worldwide. With the use of correct HTML and CSS code, they convert your Figma design into pixel-perfect markup that is retina-ready.
Pixel Perfect HTML
Since its launch in 2015, Pixel Perfect HTML has been transforming trailblazing designs into adaptable and device-independent websites. This Figma to HTML conversion Company provides high-quality web development services cost-effectively and within a budget. 
Their skilled and experienced front-end development team transform any Figma file into responsive, user-friendly, and cross-browser compatible websites and applications to render a seamless user experience. Through their advanced technology skills, custom and digitalized service, prompt project delivery, and consistent performance, they assist your business in reaching new heights of success.  
Heyreliable
With their unmatched Figma to HTML services, Heyreliable Company will help you reach the highest level of design execution by converting your complex Figma blueprints into responsive, smooth, and interactive online interfaces. To render an engaging and user-friendly experience, their developers scale your website to smaller displays and for cross-browser compatibility.
You gain more with Heyreliable than with a one-time development project because they are committed to assisting you achieve your business objectives and gain competitive advantage. 
Further reading

If you'd like to explore more of the world of design, then these articles might interest you:
HTMLBurger
HTMLBurger offers affordable conversion of Figma designs into flawless HTML/CSS templates. Over 1 million pages have been converted by their team of over 100 skilled developers since 2007. Delivering distinctive web development solutions is their focus.
HTMLBurger is a mobile and adaptable service provider that is prepared to take on challenges of all-sized businesses by utilizing the advantages of advanced web development methods. It is powered by a dedicated in-house team of skilled programmers. Their mission statement is "Smart and steady growth with a win-win outcome for all stakeholders."
HTMLBurger is the trustworthy companion you need on your road to success thanks to their extensive experience, meticulous attention to detail, relentless quest for progress, and crucial capacity to adapt to ever-changing circumstances.
Outsource2india
A well-known provider of Figma to HTML conversion services is Outsource2india, which prides itself on providing high-quality web development services with excellent customer support. They provide services to clients that have certain requirements that can only be met by collaboration with the top Figma to HTML conversion services providers in India. A variety of data conversion services, including Figma to HTML conversion services, are provided by Outsource2india to both new and existing clients. 
They have an established global presence due to their strong professional ethics and quality work delivery. Being a top provider of Figma to HTML conversion services, their process is customer-centric, and hence their service small, medium, and large businesses including bootstrapped start-ups.
Conclusion
You can convert Figma design quickly and efficiently without altering the elements or colors with Figma to html plugin. However, if you need advance assistance, you can hire a seasoned Figma to HTML conversion company, as they have the right team of professionals and technology to develop custom and cost-effective solutions for your business to help you achieve growth and improve bottom-line.
Subscribe to our newsletter