5+ Best High Tech PSD to HTML Conversion Service Providers in 2022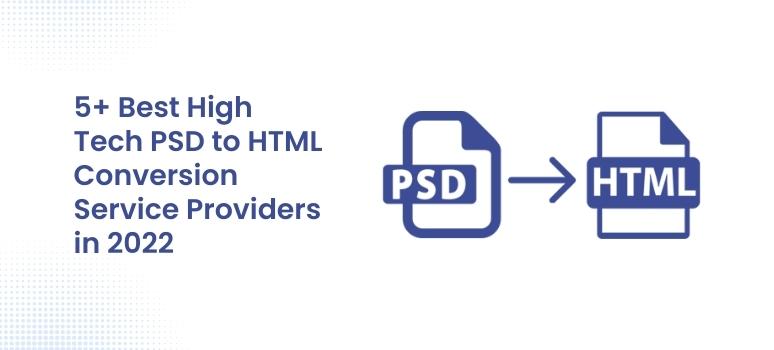 You'll need a user-friendly website with several online business possibilities if you want to be the next Internet millionaire. Conversion of PSD to HTML is now widely recognized as the most efficient method of web development. If designers apply this conversion, they may have more control over the graphics on the website.
PSD is a widely used file format. It's a markup language that Dynamic Media Classic uses to create templates. PSD to HTML conversion is the most difficult procedure. The conversion technique needs time, knowledge, and patience.
We'll go through 5+ high-tech PSD to HTML conversion service providers further in the post to assist you to reach your company goals effortlessly.
PSD to HTML Conversion Service Providers
1. Xhtmlchamps
2. PSD2HTML
3. HTMLPanda
4. Codefam
5. Markup Cloud
6. PSD2Htmlindia
7. CSSChopper
8. Pixel Perfect HTML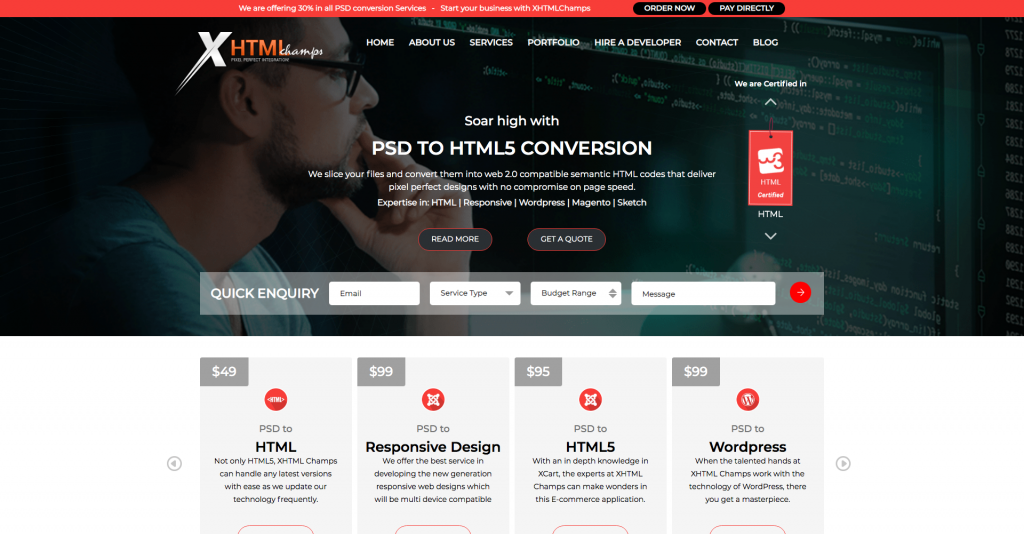 PSD conversion services are available from Xhtmlchamps and are both speedy and economical. XHTML Champs began as one of the PSD Conversion service providers in 2006, effortlessly turning any design file into web compatible handwritten W3C accepted HTML/CSS forms, including PSD, TIF, JPG, PNG, AI, EPS, PDF, BMP, or current HTML markup.
Xhtmlchamps offers personalized PSD conversion services to help you create unique and beautiful websites and web apps of all sizes. Their specialist programmers and website developers are knowledgeable in a wide range of platforms, and they work closely with their clients to ensure that projects go smoothly.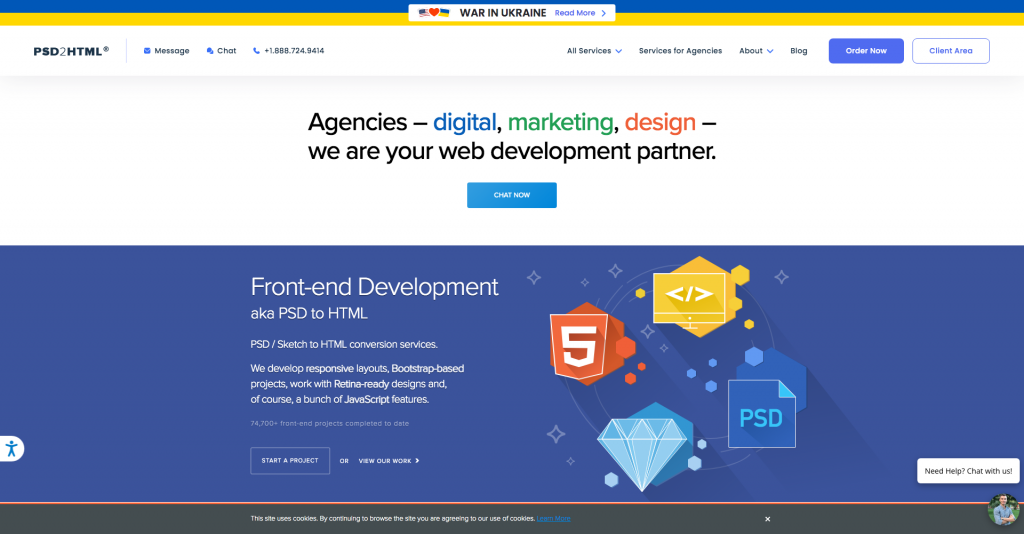 PSD2HTML offers a variety of web development services, ranging from HTML/CSS markup to complete CMS and eCommerce system solutions.
PSD2HTML was founded in 2005 as a professional PSD to HTML conversion company. PSD2HTML has completed more than 75,000 projects for web design companies, agencies, and freelancers all around the world. PSD2HTML is headquartered in Las Vegas and has operations worldwide.
As the name implies, they offer Photoshop design to HTML conversion services, later expanding to include a variety of additional web development services.
The company also works with WordPress, Shopify, Magento, Drupal, and other platforms to create and design e-commerce websites. PSD2HTML can help you find a front-end or back-end developer for your project.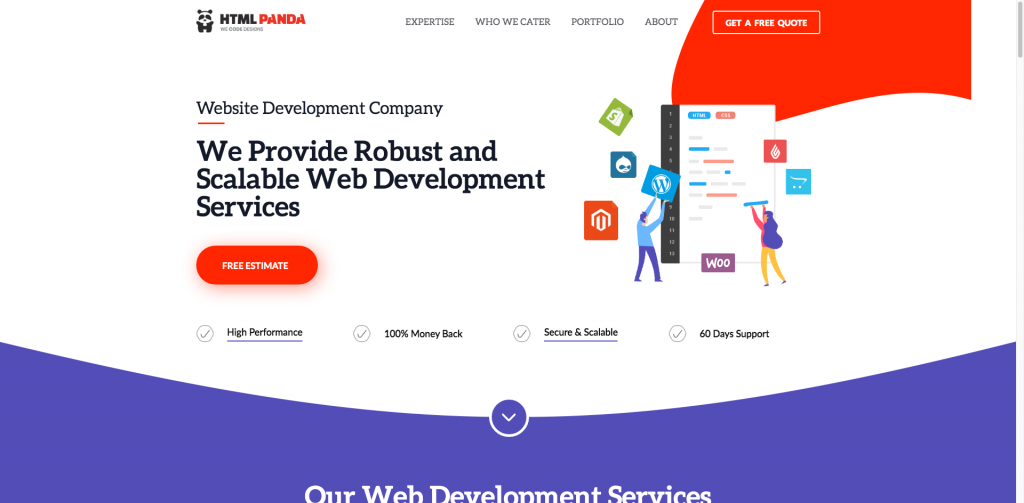 HTMLPanda is a full-service website development firm that focuses on creating mobile-first, fast-loading websites with Opensource technology. PSD to HTML conversions, WordPress, PSD to Email templates, and more services are available. Having a capable staff of developers and designers that can manage a variety of internet needs. HTMLPanda helps you get your website up and running quickly with over 5 years of web development expertise, including PSD to HTML conversion services, and a well-coordinated team of web designers and developers. HTMLPanda, a top Web development firm, provides safe, 100% hand-coded, pixel-perfect, and cross-browser-compatible websites.
Codefam is a rapidly expanding online business specializing in PSD to HTML conversion and WordPress/WooCommerce integration. The service is prompt and unflappable. Designed to be fast and user-friendly, and to interact with frameworks like Bootstrap and Foundation to achieve the best results.
For optimal compatibility, all mobile and browser versions are tested. Codefam Creates new designs or makes improvements to existing ones.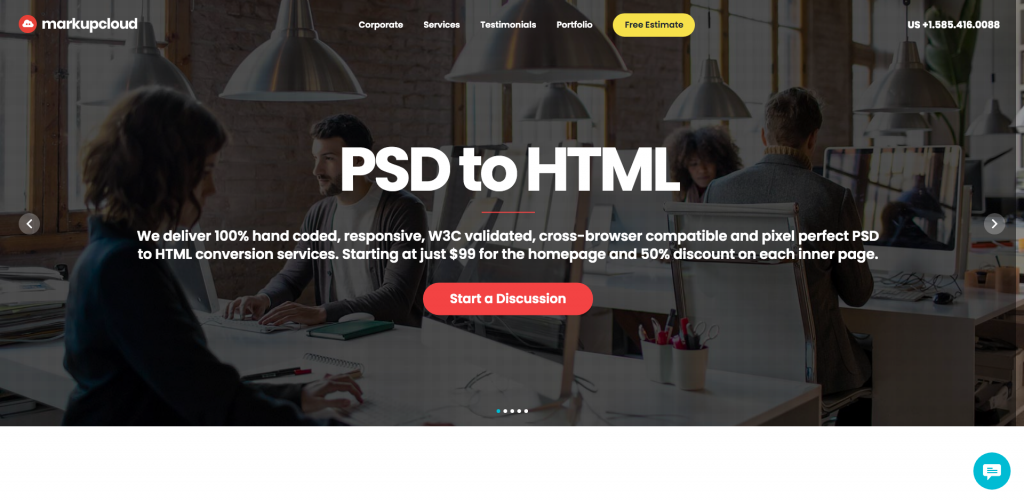 One of the organizations that provide excellent PSD to HTML conversion services is Markupcloud. Convert your PSD to XHTML, HTML5, CSS, WordPress, Drupal, Joomla, and Magento at a minimal charge.
The PSD to HTML conversion services provided by Markupcloud is 100% hand-coded, responsive, W3C validated, cross-browser compatible, and pixel-perfect.
Markupcloud is a brilliant group of 150+ engineers who supply clients all around the world with high-quality, low-cost markup conversion services. Their developers create high-quality, cross-browser compatible markup converters that are SEO semantically coded using the most up-to-date development tools, platforms, and industry standards.
Their primary goal is to provide the highest quality standards while also being innovative, putting them among the leading IT organizations that provide a variety of markup conversion services.
Psd2htmlindia is a one-stop-shop for all front-end development needs. The company's headquarters are in Ahmedabad, Gujarat. The business has been in operation for almost a decade. They have a strong front-end developer team with extensive experience in web design and development. The firm offers a wide range of front-end development services, from PSD to HTML conversion to WordPress and Bootstrap conversion.
PSD2Htmlindia provides clients all over the globe with PSD to HTML conversion, PSD to Responsive HTML, PSD to Bootstrap conversion, PSD to Responsive without Bootstrap, PSD to Magento, and PSD to WordPress conversion services. PSD2Htmlindia is a leading PSD to HTML conversion service that converts Photoshop PSD designs into W3C validated, cross-browser compatible HTML / HTML5 / CSS SEO friendly code that is handcrafted, pixel perfect, and W3C certified HTML / HTML5 / CSS code that is handcrafted, pixel perfect, and W3C certified HTML / HTML5 / CSS code that is handcrafted, pixel perfect, and W3C certified HTML / HTML5.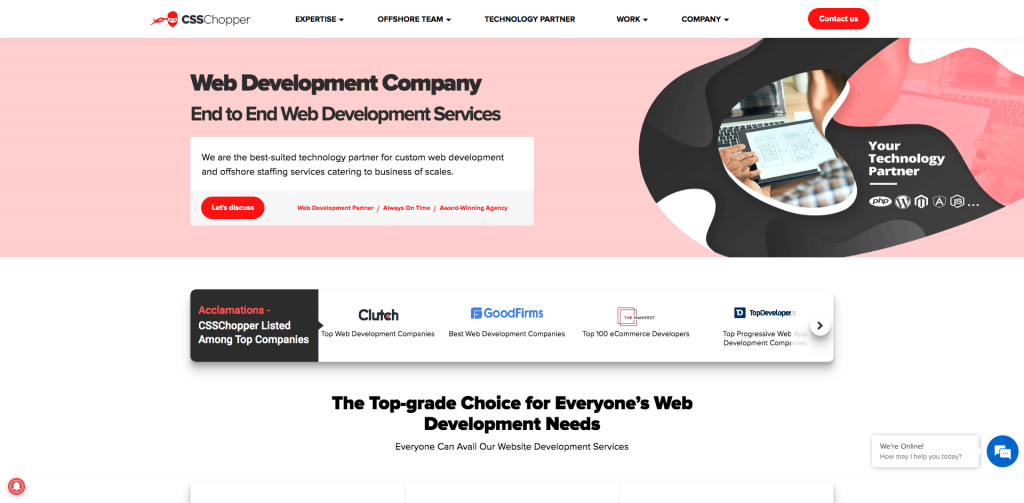 CSSChopper is a feasible partner for front-end services (PSD to HTML conversion theme integration), bespoke site design, and hiring experienced engineers.
They have a significant presence in India, where they provide a wide range of high-quality front-end and custom web development services. CSSChopper is a ten-year-old company with a plethora of industry experience and a reputation for offering exceptional service. Its main purpose is to offer clients error-free, efficient, and results-oriented solutions that help our partners flourish. With a solid grasp of current web technologies and familiarity with several content management systems based on their knowledge and abilities, they supply their clients with unique and superior solutions.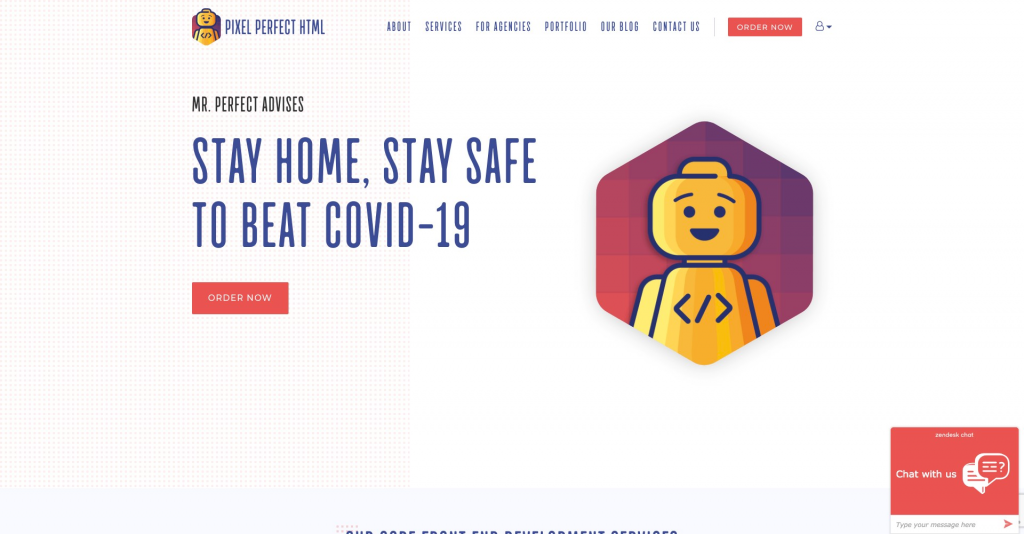 Since its inception in 2015, Pixel Perfect HTML has been translating unique concepts into responsive and console websites. Their major objective has been to provide great service to their consumers at a cheap and acceptable cost since the beginning. They claim to be able to turn any sort of PSD file into responsive and intuitive web pages capable of providing a seamless user experience, thanks to their competent and experienced front-end development staff.
Final Thoughts:
Progress is in the air, and a merchant who wants to dominate the internet must think beyond the box. Otherwise, he runs the danger of losing his market and being replaced by competitors.
PSD to HTML conversion's primary goal is to convert a Photoshop document (PSD) into a code that can be easily integrated with a design for browser accessibility. To maintain SEO optimization, all conversion strategies are founded on semantic code. Furthermore, to make feather-light webpages, the HTML markups are kept neat, hand-coded, and well-started.
These are the 5+ Best High Tech PSD to HTML Conversion Service Providers with the greatest prices for pixel-perfect, compliant, and responsive HTML codes listed in the article. Based on your unique company demands and projected budget, you may choose the best choice.
Related Articles
HTML 5

|

June 11, 2021

HTML 5

|

March 29, 2017
SUBSCRIBE TO OUR NEWSLETTER